Before You Start

If you are a new client, you must complete our onboarding and training program
before
you start capturing towers. We will not process any image sets that are submitted by pilots who have not been instructed by us. So, if you are new to SiteSee and interested in our services, please
contact us
first to make the necessary arrangements. Thank you.
Purpose of this Guide
Hardware Requirements
Mission Components
Site Overview Orbit
Tower Scan
RAD Scan
Flying a Mission
Step 1 - Accept the Mission Task(s)
Step 2 - Start the Dronelink App
Step 3 - Set Camera Exposure
Step 4 - Mark Tower Location and Dimensions
Step 5 - Capture the Mission
Starting the Mission
Calibrating Camera Focus
Using the In-Flight Controls
Pausing or Cancelling a Mission
Resuming a Mission
Re-Centring a Mission
Using Ground Control Points
Purpose of this Guide
SiteSee specialises in high-accuracy 3D modelling of vertical structures such as cell towers. This guide explains how to use Scanlink for the automatic capture of cell towers.
Please note that this guide does not cover basic drone operation skills. It assumes that drone operators
know how to operate and fly their drones;
have sufficient flying experience to safely perform all operations described in this guide;
know how to use the camera of their drone and have successfully captured images before;
are familiar with the drone-specific regulations pertaining to the areas where they fly their missions and have all permissions required to fly; and
know how to assess and mitigate the risks of operating their drone and do so for each mission in accordance with regulatory requirements.
Hardware Requirements
Scanlink was designed specifically to capture cell towers and runs in the Dronelink app. SiteSee only supports the following drones:
DJI Phantom 4 Pro V2.0 (the first version of this drone is not supported by Scanlink)
DJI Mavic 2 Pro
DJI Mavic 3 Enterprise
DJI Mavic Air 2S

Compatible Tablet PCs

Scanlink runs in the Dronelink app which is available for both Android and iOS tablet PCs. To work properly, the Dronelink app requires recent devices with a fast processor and the latest operating system version (
see here for a list of incompatible iPad models
). We strongly recommend using a tablet PC (i.e. not a smartphone) that is included in the list of devices compatible with the DJI Go app. To view this list, go to
www.dji.com
and find the specifications for your drone model. The compatible devices are listed in the section APP/LIVE VIEW. Because smartphone displays are too small to work accurately, we do not recommend using them. The screenshots in this guide were taken with an iOS device. Note that the Android interface differs slightly.

Test Your Equipment

It is strongly recommended that, prior to using Scanlink, you test your equipment in the field to ensure that it is compatible and everything is working. Specifically, make sure that your tablet PC, remote control and drone are connecting as designed, then fly the drone and manually capture a few images. Remove the SD card, insert it into your PC and check that it contains the images you captured. If your drone saves images in its internal memory, consult our
Troubleshooting Guide
for information on how to change this setting.
In the field, an internet connection is useful to download maps of the tower location. If you intend to tether your tablet PC to your smartphone, make sure that its battery is charged sufficiently. Using it as a WiFi hotspot increases battery usage considerably. Note that the Dronelink app can be used in locations without internet access. However, it is necessary to preload Scanlink and location map in a location with internet access.
Also bring along the following gear when flying a mission:
Sufficient spare batteries and propellers.
A launch pad to mark the take-off position and to keep your drone and camera lens clean when taking off from and landing on dirt, grass, etc.
A white A4 sheet of paper or cardboard to help you set exposure (see below for instructions).
A lens cloth and some microfibre cleaning cloths.
To upload the captured images, a fast and reliable internet connection is required. A single image set typically contains several hundred to over a thousand images, resulting in a total data volume of up to (and sometimes over) 10 gigabytes.
Mission Components
A mission (task) always consists of the following components:
Site Overview Orbit
Tower Scan
RAD Scan
Optionally, an orthomosaic and a panorama are also captured. Each component is explained below.
Site Overview Orbit
This mission component captures a single orbit above the tower with the camera gimbal set at -65 degrees.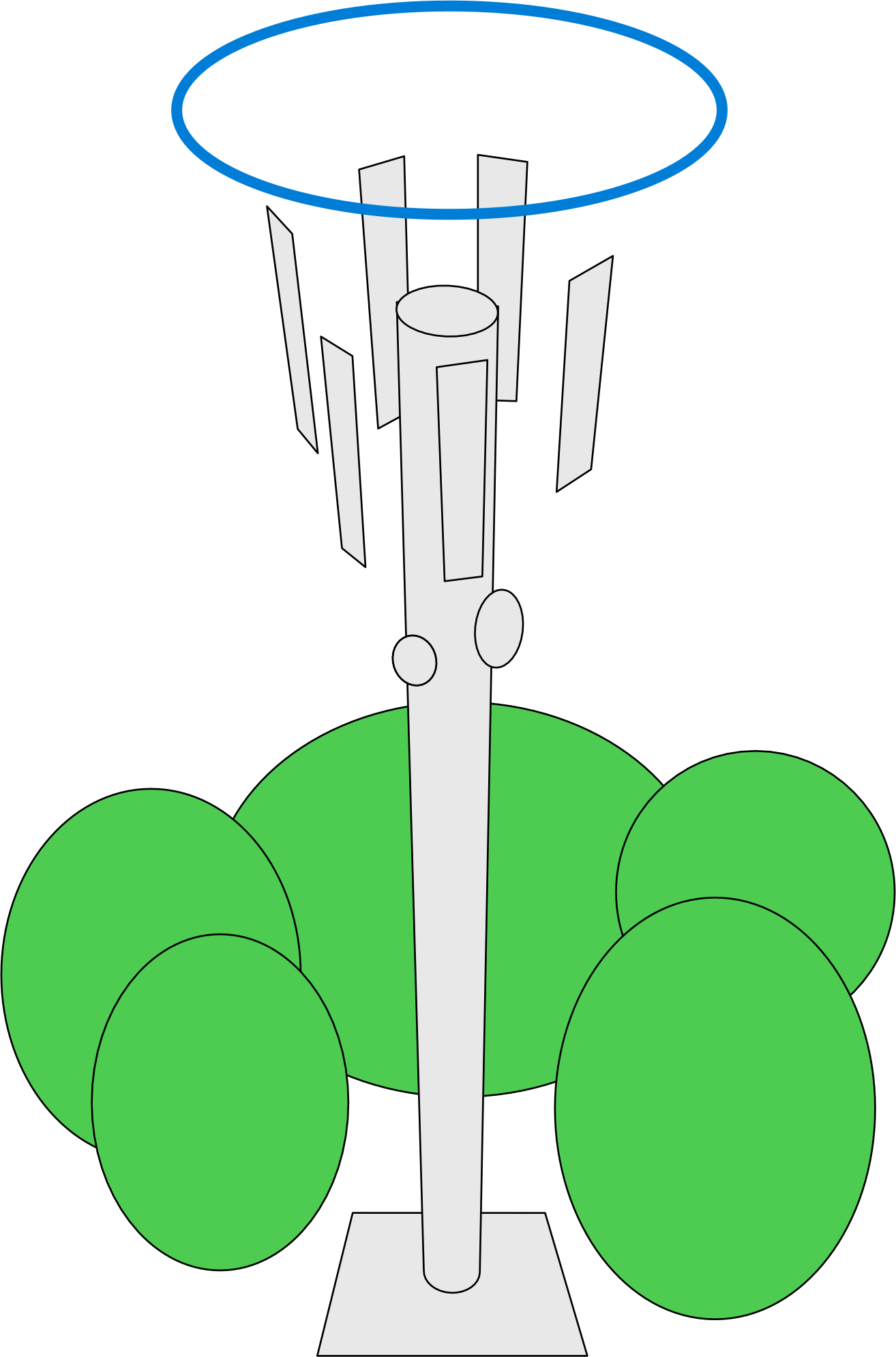 The purpose of this component is to capture the whole tower from base to top, so make sure that during the capture neither the tower base nor its top are cut off. There also shouldn't be too much space above and beneath the tower. The image below shows a well-framed tower.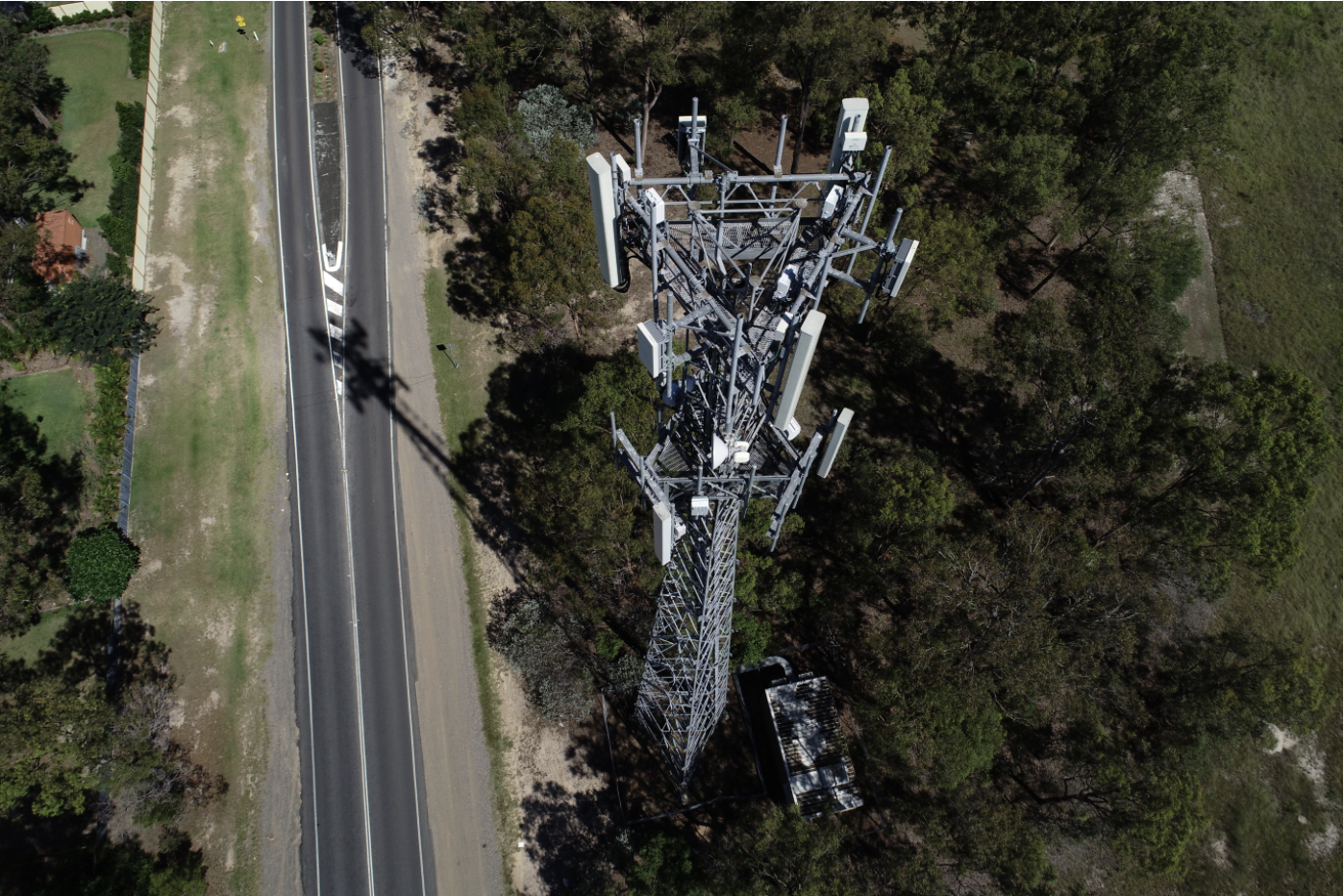 Tower Scan
This component captures the whole tower using orbits and with the camera gimbal set at -45 degrees. A minimum safe altitude of between 10 m (33 ft) to 15 m (50 ft) is recommended. Scanlink has a feature to automatically avoid obstacles such as trees and buildings. Between obstacles, verticals are captured instead of orbits.


RAD Scan
A RAD is a level on which equipment is mounted (e.g. an array of antenna panels or a dish). This component captures all RADs using one orbit per RAD level with the camera gimbal set at -10 degrees.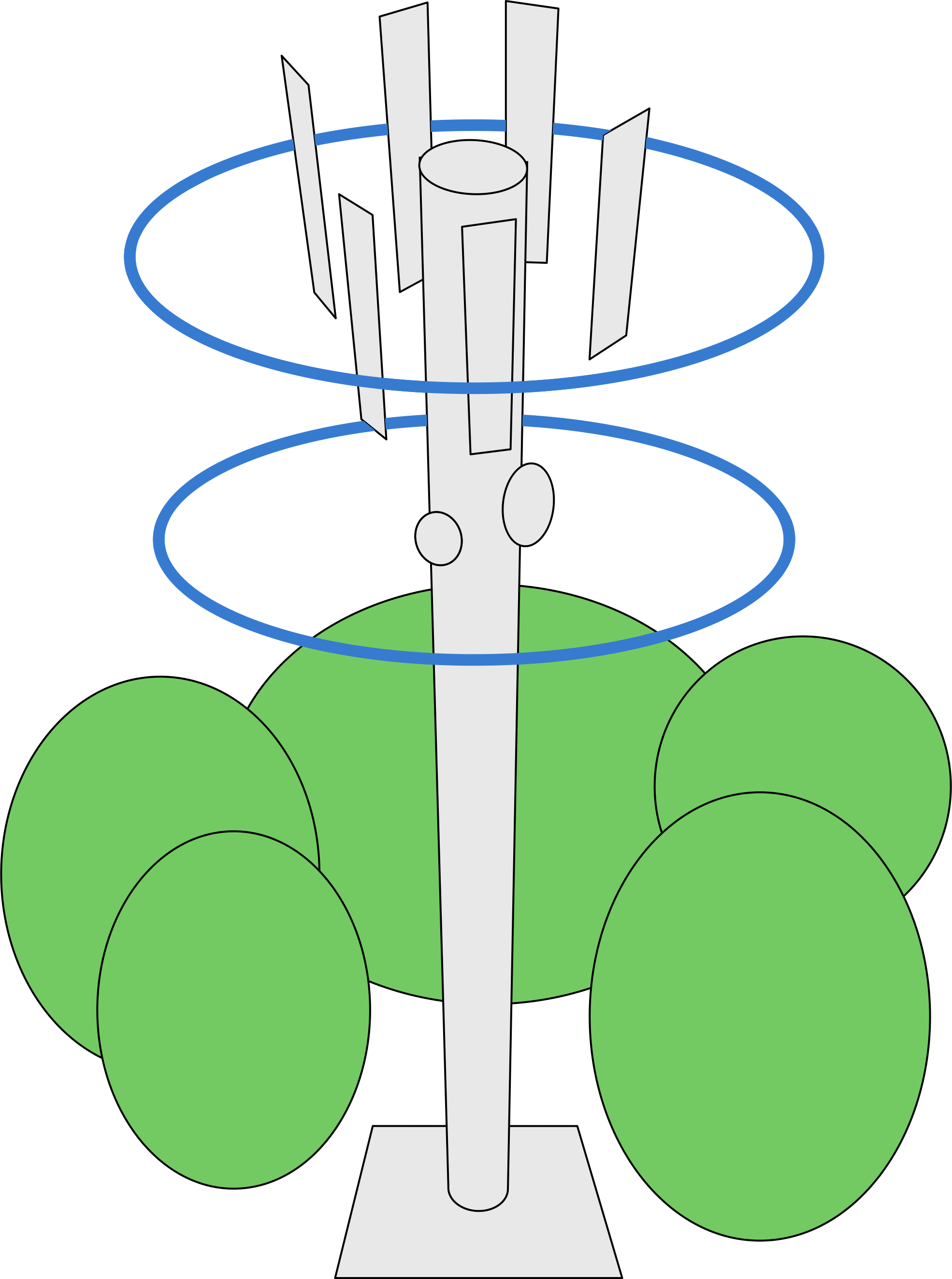 Flying a Mission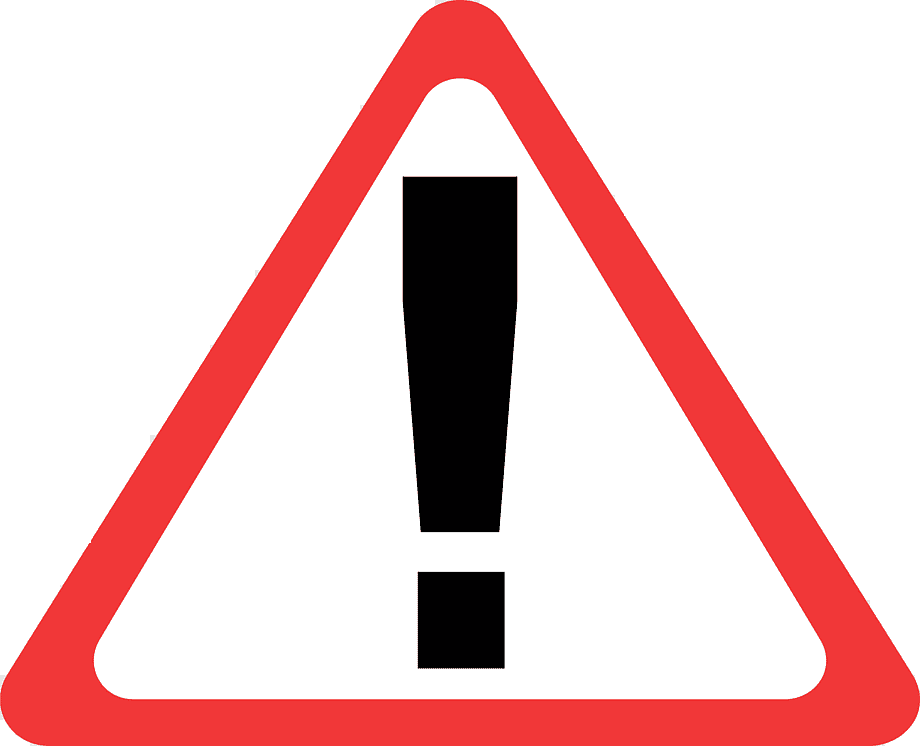 GPS altitude stabilisation
It is recommended that each time the drone takes off to provide it sufficient time to acquire GPS signals. This involves taking off the drone to a sufficient height where it has clear view of the sky and letting it hover there without pilot input. This allows the signal to stabilise and provide the highest quality data.
After each battery change please ensure the drone has lifted off and has maximum GPS satellite observation count. Typical max observation counts is between 17-20.

Once the max satellite observation count has been determine, let the drone hover for 2minutes to stabilise the GPS altitude.

When to Fly

Preferable fly in these conditions:
Fly in calm weather, with no strong wind or wind gusts. Windy weather makes it difficult to calibrate the tower centre and can result in inaccurate flight paths.
Ideally the sun should be near its zenith (i.e. avoid early mornings and late afternoons when the sun is low). During the winter months at high latitudes, it is better to fly on an overcast day with diffuse light. Flying when the sun is low results in harsh light that makes it difficult to set exposure and can cause lens flare.
The weather should be stable. If the weather changes rapidly (sun shining, then disappearing behind clouds, then re-emerging, etc.), the resulting image set will be exposed unevenly. If you must fly in these conditions, make sure that you set exposure when the sun is out (i.e. not when it is behind clouds), then leave exposure unchanged, even if the sun disappears behind clouds.
Planning and flying a mission consists of the following steps:
Accept the mission task(s)
Start the Dronelink app
Set camera exposure
Mark tower location and dimensions
Capture the mission
These steps are described below in the order they must be performed.
Step 1 - Accept the Mission Task(s)
A complete SiteSee mission consists of:
A tower scan task (required)
A orthomosaic task (optional)
A panorama task (optional)
SiteSee will create these tasks for you and email them to you. If you have not received any tasks yet, please contact us. The tasks we email you are reusable, so we will only email them to you once. They can also be shared by multiple pilots in your team.
Before you can fly a task you must first accept it, so that it will become available in the Dronelink app on your tablet PC. To do so, click on the task link in our email, then follow the step-by-step instructions. If you have not done so yet, you will be prompted to download the Dronelink app to your tablet PC and set up a free Dronelink account (it is not necessary to set up a Dronelink account in advance or to purchase a Dronelink plan).
Step 2 - Start the Dronelink App

Batteries Charged?
Ensure the batteries of all equipment (drone, remote controller, and tablet PC) are charged sufficiently to fly your missions (full charge is recommended).

Camera Lens Clean?
Ensure that the lens of your camera is clean. A dirty lens can result in an unusable image set. Rain droplets and condensation can also be a problem. Condensation can result when taking the drone out of an air conditioned car in humid weather. In this situation, allow the drone to acclimatise for about 15 minutes before flying.
Android
Disconnect your tablet PC from the remote controller (unplug USB cable).
Go to the Android multitasking list and kill the Dronelink app if it is open.
Ensure your drone, remote controller and tablet PC are all turned on.
Reconnect the tablet PC to the remote controller.
When asked to choose an app, select Dronelink and tap 'Just Once'.


Choosing an App

When choosing an app for the USB device, always tap 'Just Once'. This will make it easier to switch to the DJI GO app, which may be necessary to, for example, calibrate the compass. If you accidentally chose 'Always',

consult this guide

for information on how to switch between apps.
iOS
Ensure your drone, remote controller and tablet PC are all turned on.
Connect the tablet PC to the remote controller.
Open the Dronelink app.
Step 3 - Set Camera Exposure

Avoid Incorrect Camera Settings
Incorrect camera settings are a frequent cause of capture issues and result in low-quality, often unusable image sets. So please make sure you strictly adhere to the instructions below.

Use Default Settings
Only adjust the settings specified by us (ISO, aperture, exposure). Leave all other settings such as sharpness, contrast, saturation, aspect ratio, file format at factory default. If you have previously changed these settings, please reset your camera.

Constant Exposure Settings Required
Only set manual exposure once prior to starting a mission. Use the same fixed settings for the whole mission (i.e. site overview orbit, structure scan and RAD scan), that is, do not change either ISO, aperture or shutter speed while the mission is in progress. Check your settings when resuming a mission to ensure that you did not accidentally change them.

High Contrast Situations
Especially on sunny days and when the sun is low, the side of the tower exposed to the sun is much brighter than its shady side. The procedure below uses the histogram to help you capture images that are neither too dark on the tower's dark side nor too bright on its bright side. For background information on what a histogram is and how to use it,
please consult this page
.
Tap on the button displaying your drone model . This opens the following screen (tap to return to the task list):


For the following steps you will need the histogram. If it is not displayed, tap > and turn on the Histogram:




If the histogram is placed inconveniently, you can drag it to a more convenient position.
Place your drone on a white sheet of paper as shown below (to avoid reflections, do not use glossy or laminated paper). Ensure that the paper is flat on the ground and exposed to as much ambient light as possible. If the sun is shining, make sure the paper is in full sun and neither the drone nor anything else cast a shadow on it.




Use your remote controller to adjust the gimbal angle downward until the paper completely fills the screen.
Tap , then select manual exposure mode M and adjust the ISO to 100 and aperture to F4.


If you are using an iPad

Pilots who are using an iPad to control a DJI Mavic 2 Pro will currently experience the following anomaly when setting aperture: When aperture is set to F4 using the aperture dial, the actual aperture set by Scanlink is F2.8 (as shown at the top of the display). This is a known bug caused by underlying DJI software. Until it is fixed, work around it by selecting F5.6 on the settings dial. This will result in an actual aperture of F4 as required:

Adjust the Shutter speed until you see a single sharp peak approximately in the middle of the histogram. This peak represents the current exposure of the white paper.
Slowly

decrease

the shutter speed in single steps and observe how this histogram peak moves to the right. Stop when the peak has nearly reached the right margin of the histogram and no longer moves when you further decrease the shutter speed (see screenshot below).



Here some examples of correct and incorrect exposure settings:



Important: Stop reducing the shutter speed

before

the peak starts compressing (i.e. it no longer moves and starts to get thin like in the example above on the right). Watch this video to better understand how to use the histogram:

Check the brightest parts of your tower (tower pole, antenna panels, dishes, etc.). If they are significantly darker than your sheet of paper (e.g. painted grey or green), reduce the shutter speed by another stop (for example in the screenshot above from 1/80 to 1/60).
Exposure is now set correctly. Tap again to close the exposure settings.
Step 4 - Mark Tower Location and Dimensions
Tap

to return. If the task list is not open, tap on Tasks. The app now displays this screen: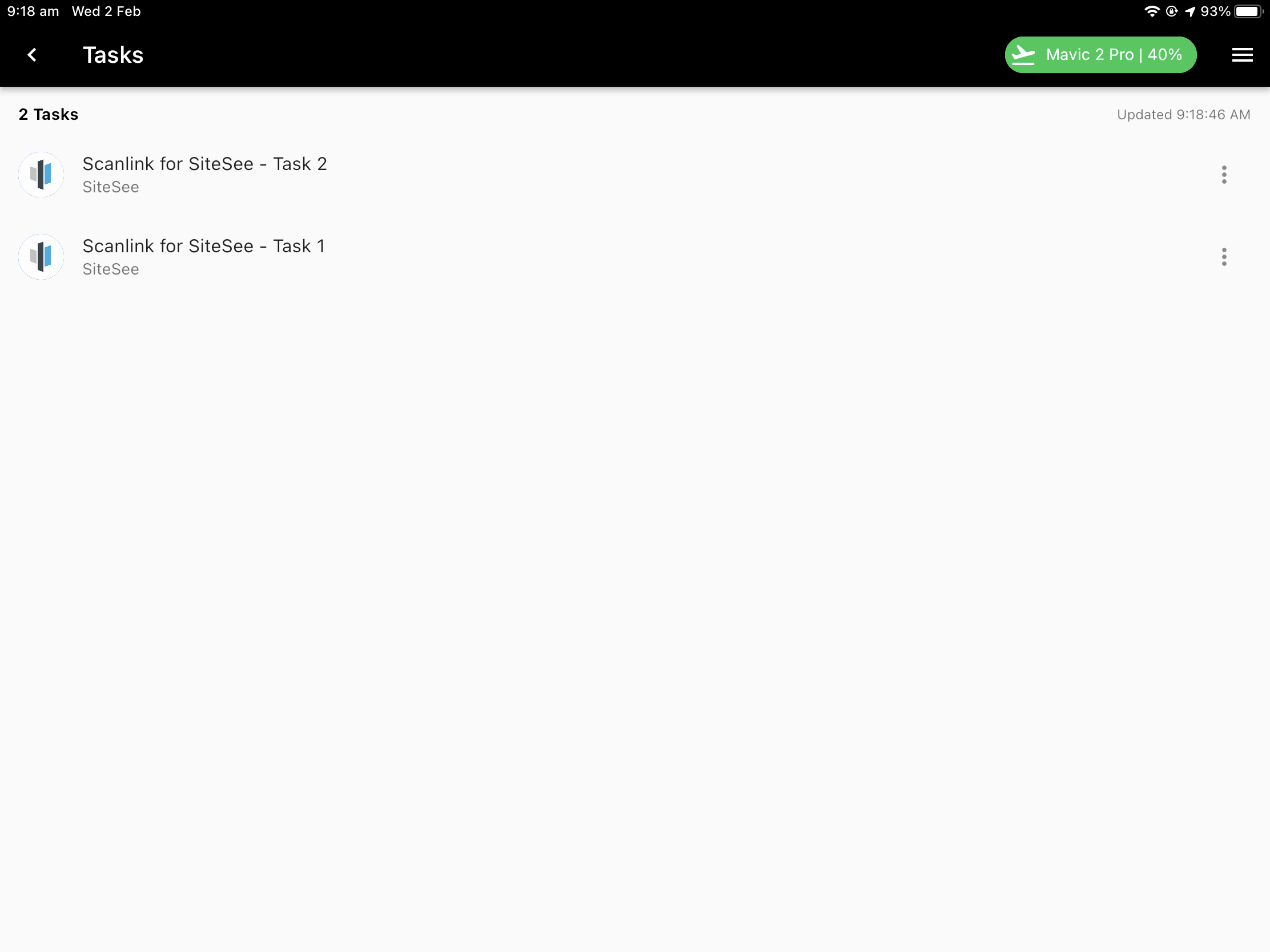 Depending on your arrangements with SiteSee, this screen lists one or several tasks. Tap on a task. The app will load the task and display the following: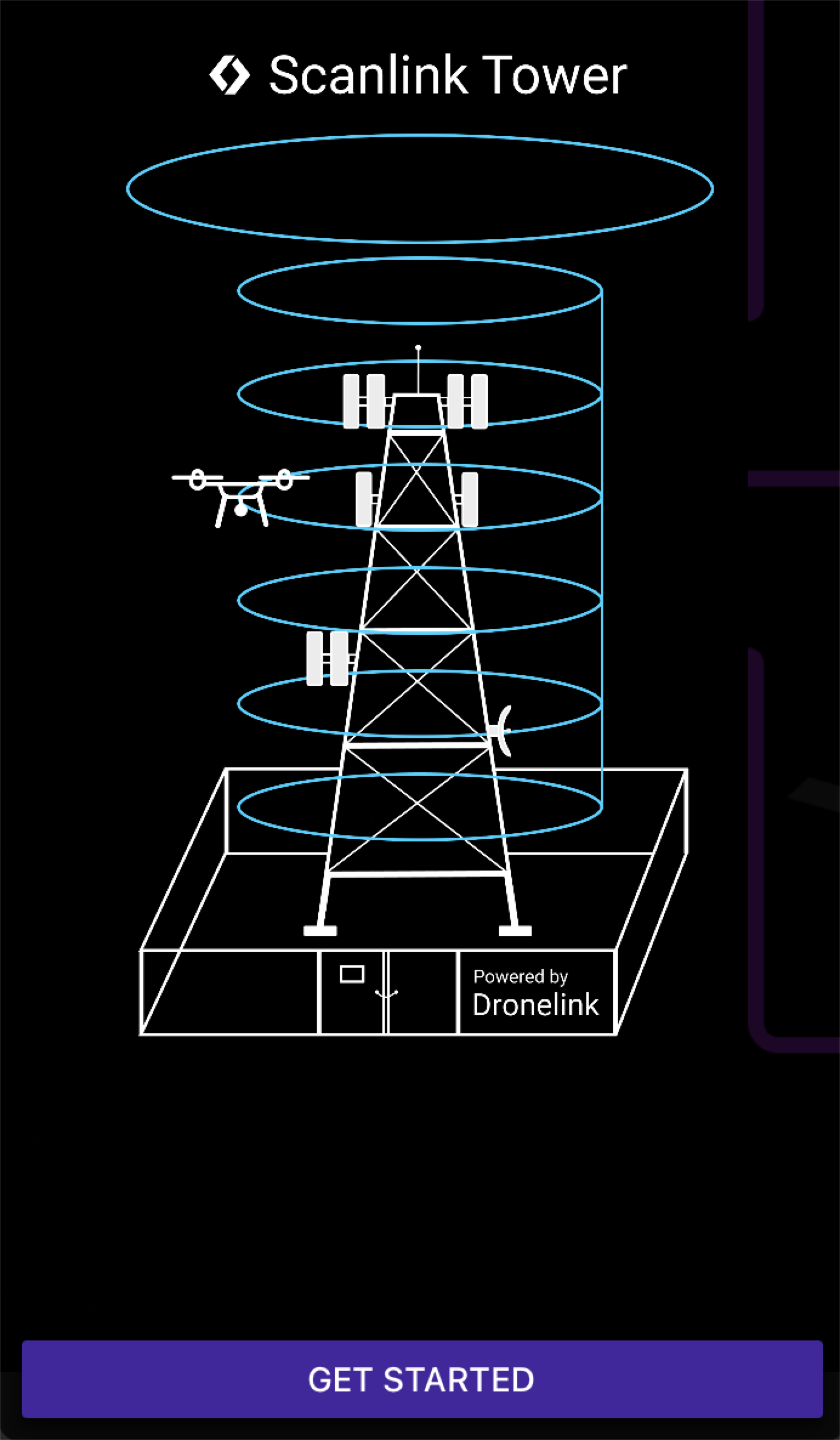 You are now ready to start the task. Tap the 'Get Started' button. Scanlink will guide you through marking the tower location and its dimensions step by step.

How to Mark
To avoid inaccurate results when marking the tower dimensions, neither fly too close to it (which could result in inaccuracies due to GPS interference) nor too far from it. A distance of about 8 m (26 ft) to 10 m (33 ft) is ideal. Take care to do all marking as precisely as possible. For more accurate results, wait about 20 seconds in each position for the GPS to settle (you may make small adjustments during this time).

Stick Sensitivity

You may find it easier to mark the tower accurately after reducing your remote controller's stick sensitivity. Use the DJI Go app to reduce stick sensitivity. Tap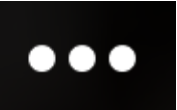 >

>
EXP
, then reduce the value of Forward/Right from 0.4 (default) to 0.1.
Note that you will be asked whether you would like to see detailed instructional images for each step. Unless you are familiar with Scanlink, we recommend you select 'Yes'. Then carefully follow the in-app instructions as follows:
Select the tower type:


Enter the Mission Name: Use a descriptive name or an identification number that will later help you to identify the tower. Note that Scanlink will add the date automatically, so it is not necessary to include the date in the mission name.


Set the Minimum Safe Altitude (MSA): Fly up to the desired MSA and mark it. We recommend an MSA of about 10 m to 15 m (33 ft to 49 ft) which will ensure that the tower base is fully captured.


Mark the RAD Heights: Set the camera gimbal angle to 0 degrees, then fly up to the centre of each RAD and mark it.



Mark the Tower Height: With the camera gimbal angle still at 0 degrees, fly up to the tower top (or top of the aerial, if one is installed) and mark it.


Mark the Tower Centre: Set the camera gimbal angle to -90 degrees (i.e. pointing straight down), then fly about 8 m (26 ft) above the tower, carefully align the reticle with the tower centre and mark it.


Mark the Edge of Tower: With the camera gimbal angle still at -90 degrees, fly outward above the tower equipment furthest from the tower centre and mark it. Scanlink uses this measurement to determine the tower radius R which will be displayed after marking. Check that this value is reasonable and within your expectations. If unsure, mark several times and compare the readings. They should be consistent.


Check whether there are obstacles (e.g. trees, buildings, powerlines, etc.) that reach close to or above the MSA and thus might obstruct the mission flight path:


If you have selected Yes, mark the Obstacle Boundary of the first obstacle: Set the camera gimbal to -90 degrees, then fly above the obstacle and either mark its centre and one peripheral point (this will result in a circular obstacle) or mark three or more boundary points around the obstacle. Take care not to crash the drone into the tower or neighbouring obstacles.

Mark the Obstacle Altitude: Fly about 4 m (13 ft) above the obstacle and mark its height.


Confirm whether there are additional obstacles and, if so, repeat steps 9 and 10.


When you have finished marking, Scanlink will show an input summary similar to the one below:

Tap 'Continue'. You are now ready to start capturing.
Step 5 - Capture the Mission
Starting the Mission

Mission Log
While a mission is in progress, the Dronelink App records a mission log which is uploaded to the Dronelink portal automatically once the mission is completed. However, for this to work, the app requires an internet connection. Therefore, if the capture is performed without internet connection, please ensure that you subsequently (e.g. when you are back in the office) connect your tablet PC to the internet, open the Dronelink app and let it run for approximately 5 minutes. This will allow the app to upload the mission log, which is essential for billing and support.
To start the mission, tap

.

Take-Off Location
While it is not necessary to land the drone prior to starting the capture, you may decide to do so for more accurate results, for example, in windy conditions. If you do land the drone prior to starting the capture, make sure that the take-off location is the same as used for Step 4 above.

'Telemetry Delayed' Error
This error is due to RF signal interference. Since it can cause severe issues such as inconsistent capture altitude and loss of images, please ensure the following:
Always maintain a direct visual line of sight (DVLOS) between your remote controller and the drone (i.e. no large obstacles between the RC and the drone).
Make sure the remote controller is not next to devices that could cause RF interference.
If you do capture from inside a car (not recommended), make sure the ignition and radio are turned off and the door is open toward the drone to ensure DVLOS. Keep the remote controller close to the door opening.
Calibrating Camera Focus
Instead of requiring pilots to set focus for each mission, Scanlink uses an innovative calibration-based approach. For any drone, calibration only needs to be performed once. After successful calibration, Scanlink will always set the focus to 15 m (50 ft) for each mission. In combination with aperture F4 (as specified in Step 3 above), this results in images that are sharp from 3 m (10 ft) to infinity.
If you did not yet calibrate focus, Scanlink will ask you to do so when you start the first mission:

You will be asked to choose either the Altitude or Distance method: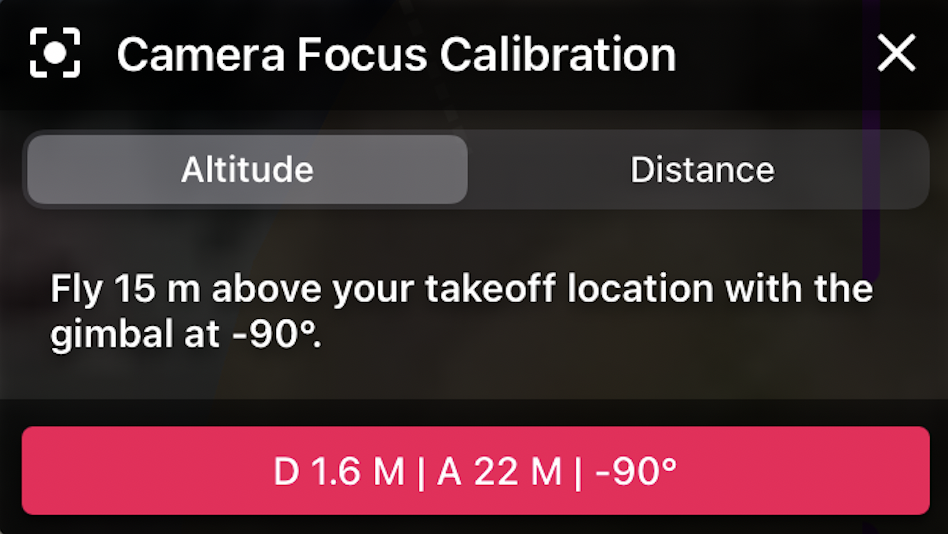 The Altitude method requires you to fly to an altitude of 15 m (50 ft) to calibrate focus. The Distance method requires you to gradually move away from an object horizontally until you reach a distance of 15 m (50 ft).
We recommend the Altitude method (default). It is easier to use and less error-prone. Take off and fly to an altitude of exactly 15 m (50 ft). Ensure that you stay within 1 m (3 ft) of the takeoff position vertically. When you reach the required altitude and provided you do not depart too much from the takeoff position vertically, the read button will turn green automatically and display 'Start'.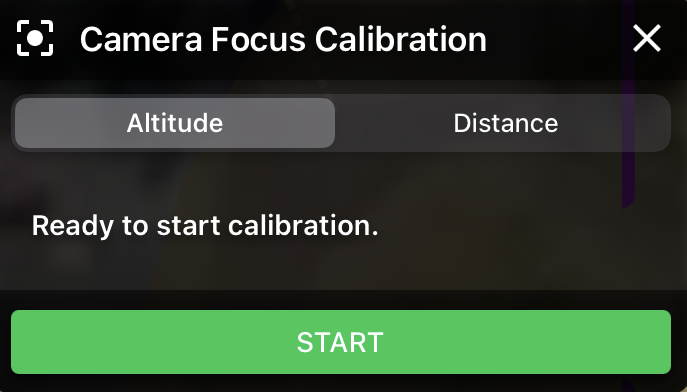 Press 'Start' and allow the calibration process to complete: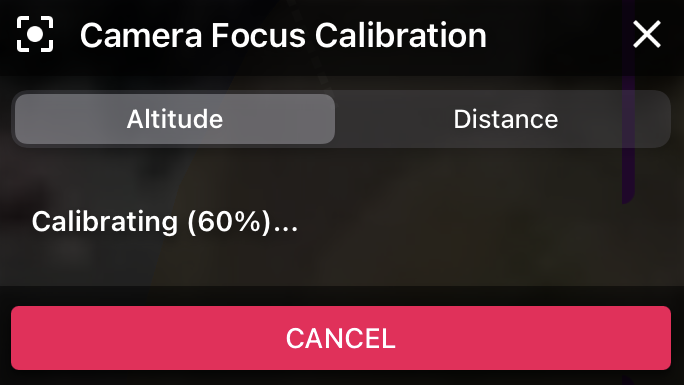 Calibration is now complete and you are ready to start the mission. You will not be asked to calibrate focus again for subsequent missions.
If you prefer to use the Distance method instead, follow these instructions: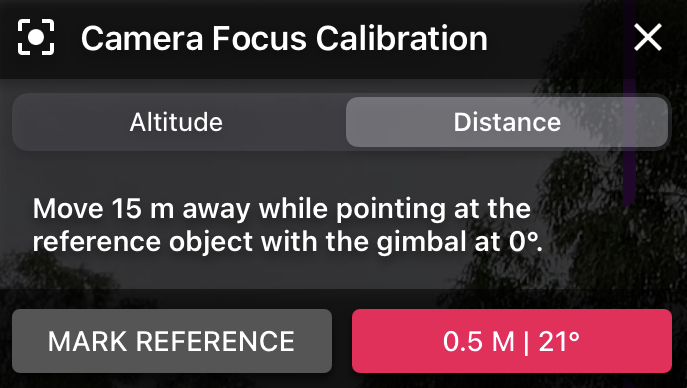 If you made a mistake or you feel the calibration you performed is inaccurate you can reset it in the in-flight controls by tapping 'Clear Focus Calibrations' (tap

to display the in-flight controls):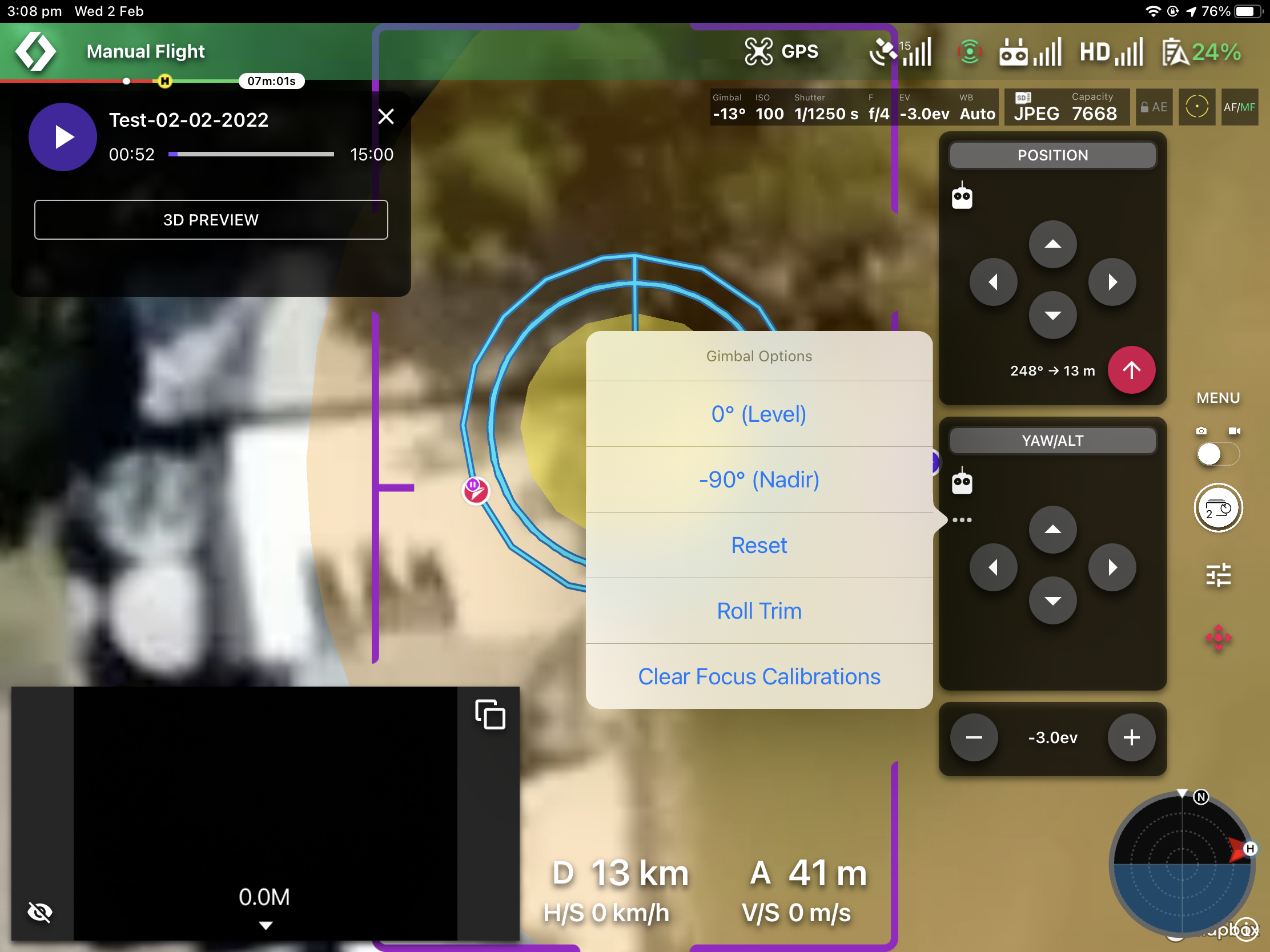 Re-Centre Tower After Calibrating Focus

Because focus calibration requires flying away from the already marked tower back above the takeoff position, GPS drift often results. Hence, to ensure that the tower will be captured accurately, we recommend that you mark the tower centre again after focus calibration. How to do so is explained below in the section
Re-Centring a Mission
.

Calibrate Focus for Each New Drone

If you are going to use a different drone than the one for which you previously calibrated focus (for example, you crashed a DJI Mavic 2 Pro for which you already calibrated focus and bought another DJI Mavic 2 Pro to replace it), you MUST calibrate focus again. To do so, clear focus calibrations as described above, then start the mission and calibrate focus again when prompted.
Using the In-Flight Controls
The in-flight controls shown in the screenshot below allow the real time adjustment of a mission's flight path.
How to Use the Controls
To hide the in-flight controls, tap

. Tap this icon again to show the controls. There are two sets of controls - POSITION and ALT/YAW - which work as follows:


POSITION

Move left.
Move right.

Decrease distance to tower.

Increase distance to tower.
ALT/YAW

Rotate yaw counterclockwise.
Rotate yaw clockwise.

Increase altitude.

Decrease altitude.


Tap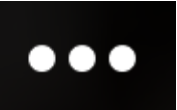 to access more gimbal commands: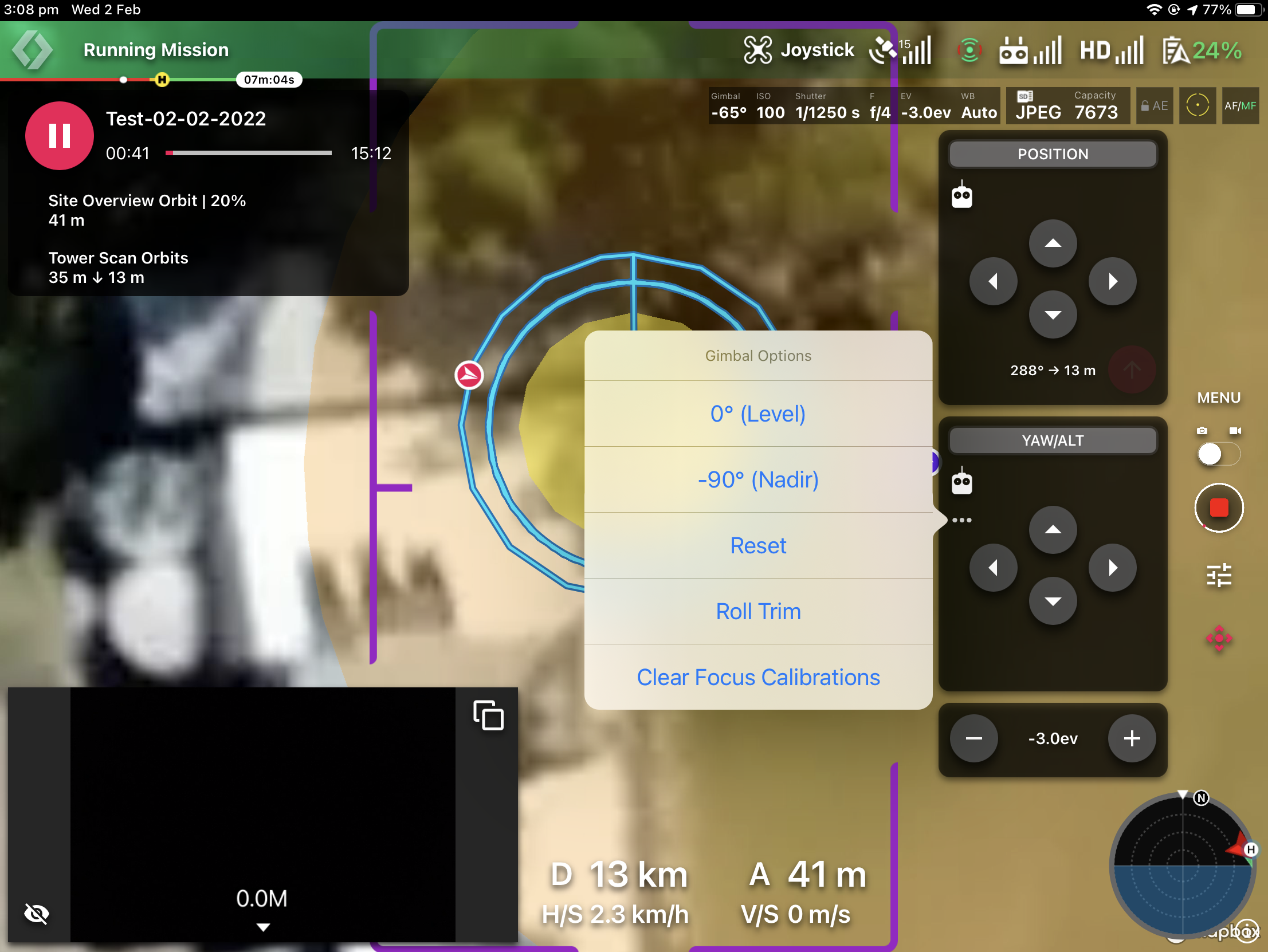 After using any of these controls, the app displays the changes you have made to the flight path above the respective controls. Tap x to cancel them.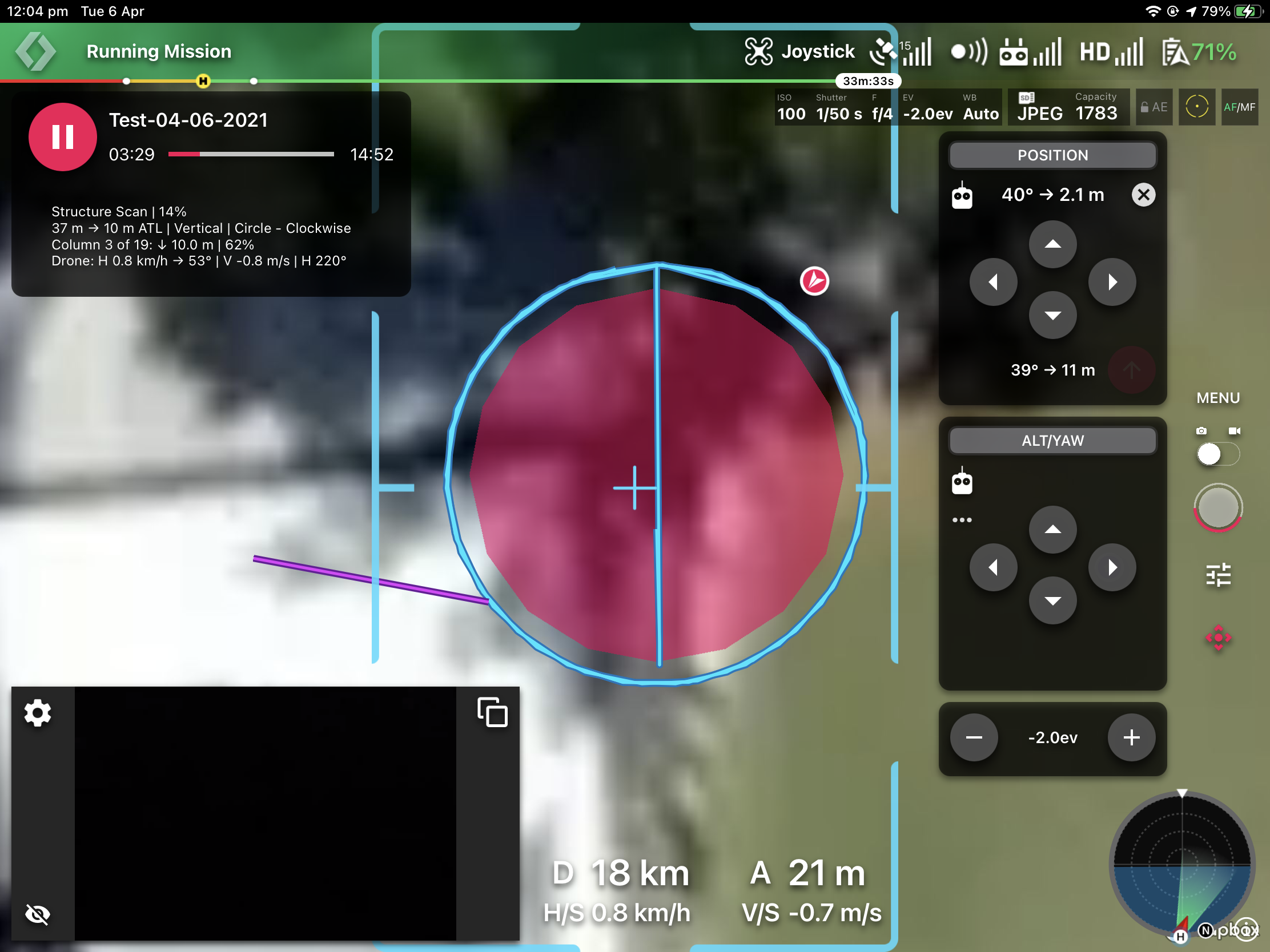 EV Control

There also is a set of controls to adjust exposure values (EV). Because the SiteSee capture procedure uses manual exposure, these have no effect. Please do not try to use them. Doing so might result in the loss of images.

Remember to Cancel Changes

Your in-flight control settings only get reset when you cancel a mission or start a new mission. The app keeps applying any changes you make after resuming a paused mission (e.g. after a battery swap). It is, therefore, important to closely observe the drone after resuming a paused mission, and to cancel in-flight control settings if they are no longer needed.
Stick Control
Tap

to activate stick control. When activated, the RC icon turns red. The left stick of your remote controller is allocated to the ALT/YAW controls and the right stick to the POSITION controls.

Caution

When in this mode, beware of operating the sticks accidentally.
When to Use the Controls
While the in-flight controls can be used in many different ways and combinations, we recommend using them as little as possible and limiting their use to the following situations:
The tower is captured significantly off-centre.
Due to altimeter inaccuracies, the vertical framing of the the tower is too high or too low; or
the drone descends too close to obstacles such as trees.
It is common for the tower to drift off-centre somewhat during capture. This issue is caused by either inaccurate marking of the tower centre, or by GPS drift. As long as the extent of the drift is moderate (i.e. not worse than in the screenshot below), no correction is required.
However, in severe cases such as the one in the screenshot below, correction is recommended.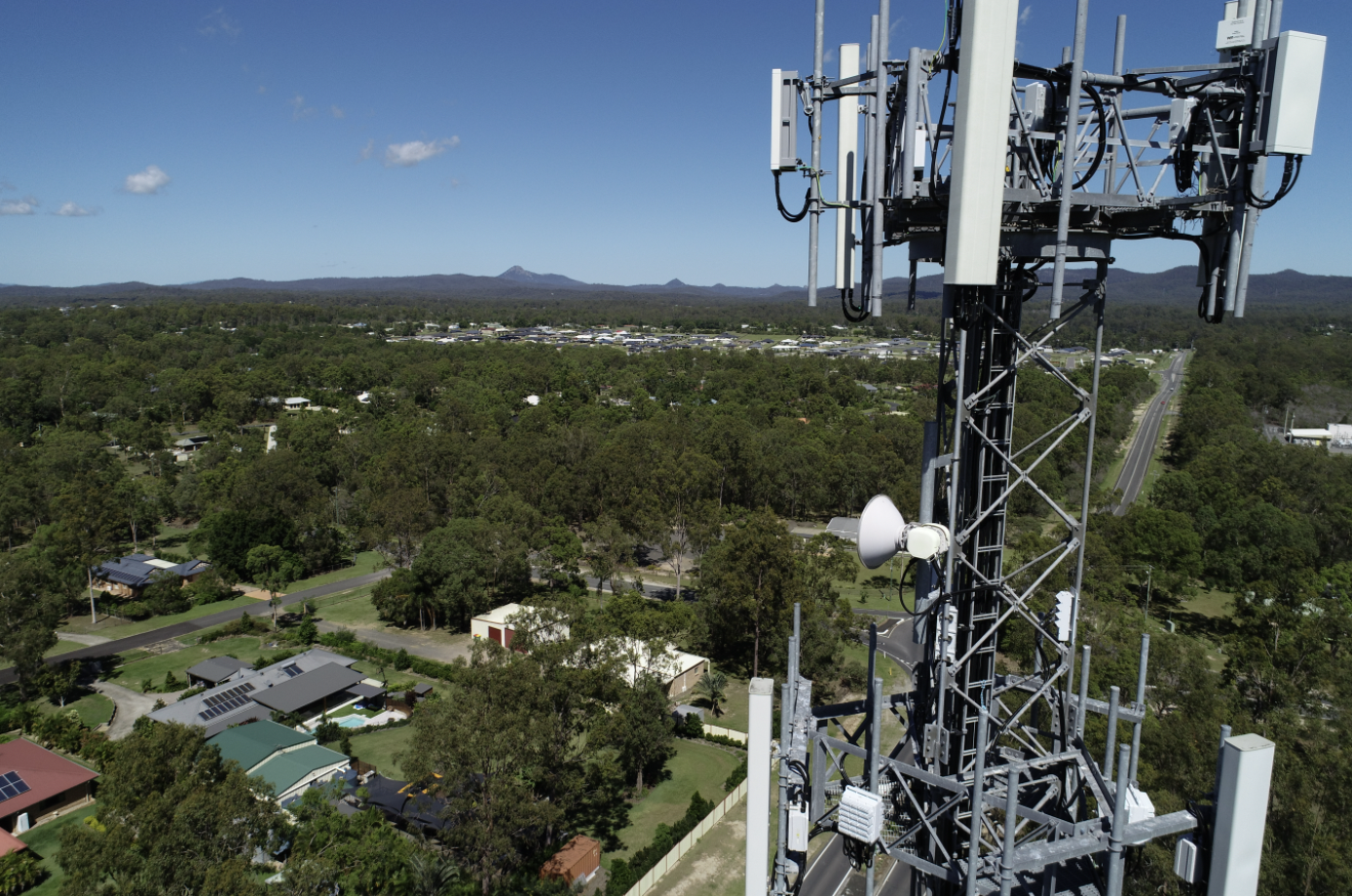 The preferred option is to cancel the mission and to re-centre the tower, taking care to mark the tower centre as accurately as possible. Alternatively, the following in-flight controls can be used to adjust the flight path:
Yaw (recommended)
Position (this can lead to unpredictable results and is generally not recommended)
As explained earlier, it is important that, during the Site Overview mission component, the tower is well centred not only horizontally, but also vertically. The screenshot below shows an inaccurately centred tower whose base it cut off and with too much space above the tower.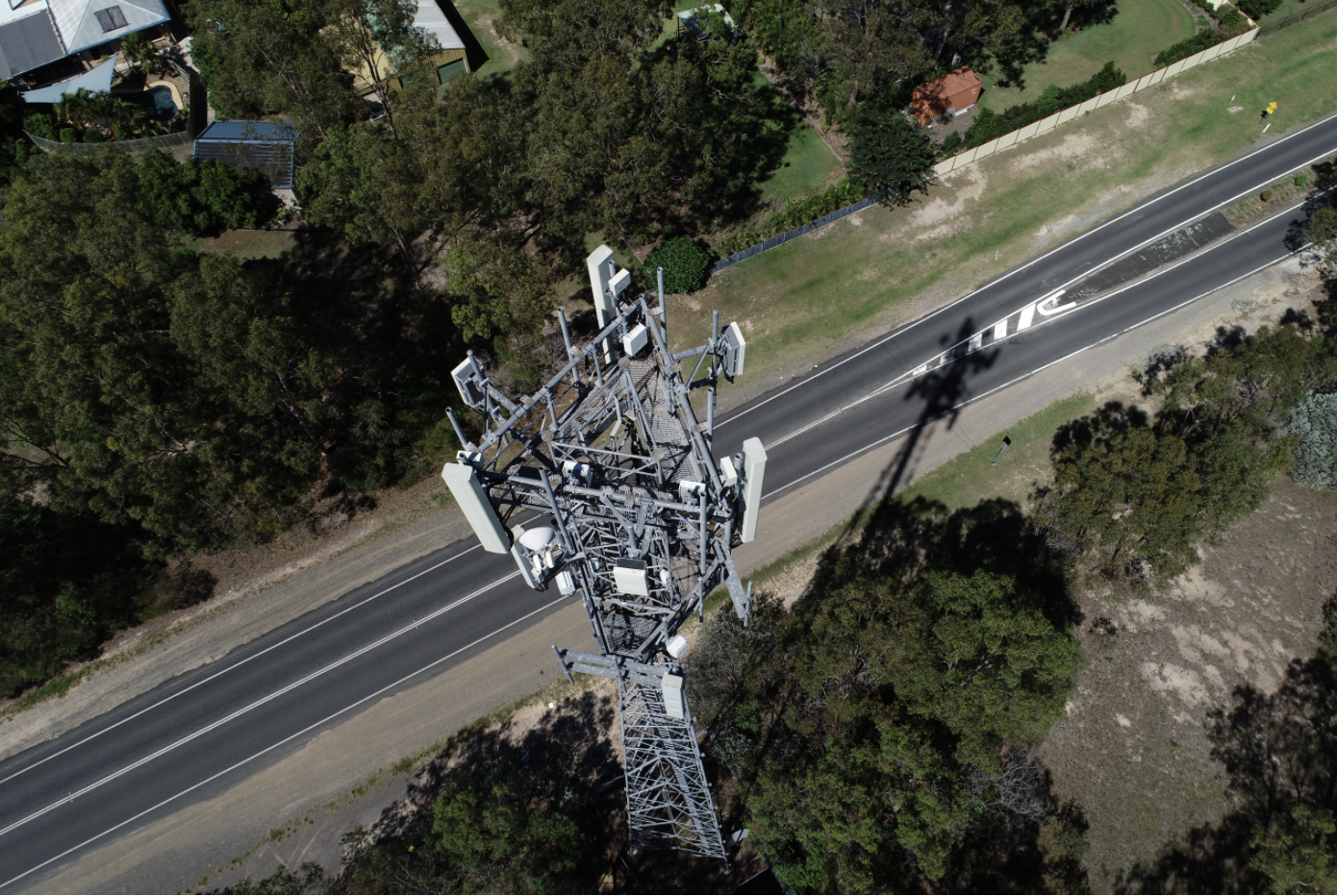 In this case, either cancel the mission and start over, or use the ALT control to correct the mission altitude. If you decide to use the ALT control, do so as soon as possible after the start of the mission.
Pausing or Cancelling a Mission
Occasionally, it may be necessary to pause or cancel a mission, for example, to
change batteries;
when the drone gets too close to an obstacle; or
to re-centre the tower.

Emergency

To immediately cancel a mission in an emergency situation, switch the flight mode on your remote controller from P to S or A. The mission will stop, and you will be able to control the drone with your joysticks.
A mission can be paused by tapping

(see screenshot below) or by pressing the Pause button on your remote controller. Once paused, the mission can be cancelled by tapping

. Once a mission is paused or cancelled, the drone can be controlled with the joysticks.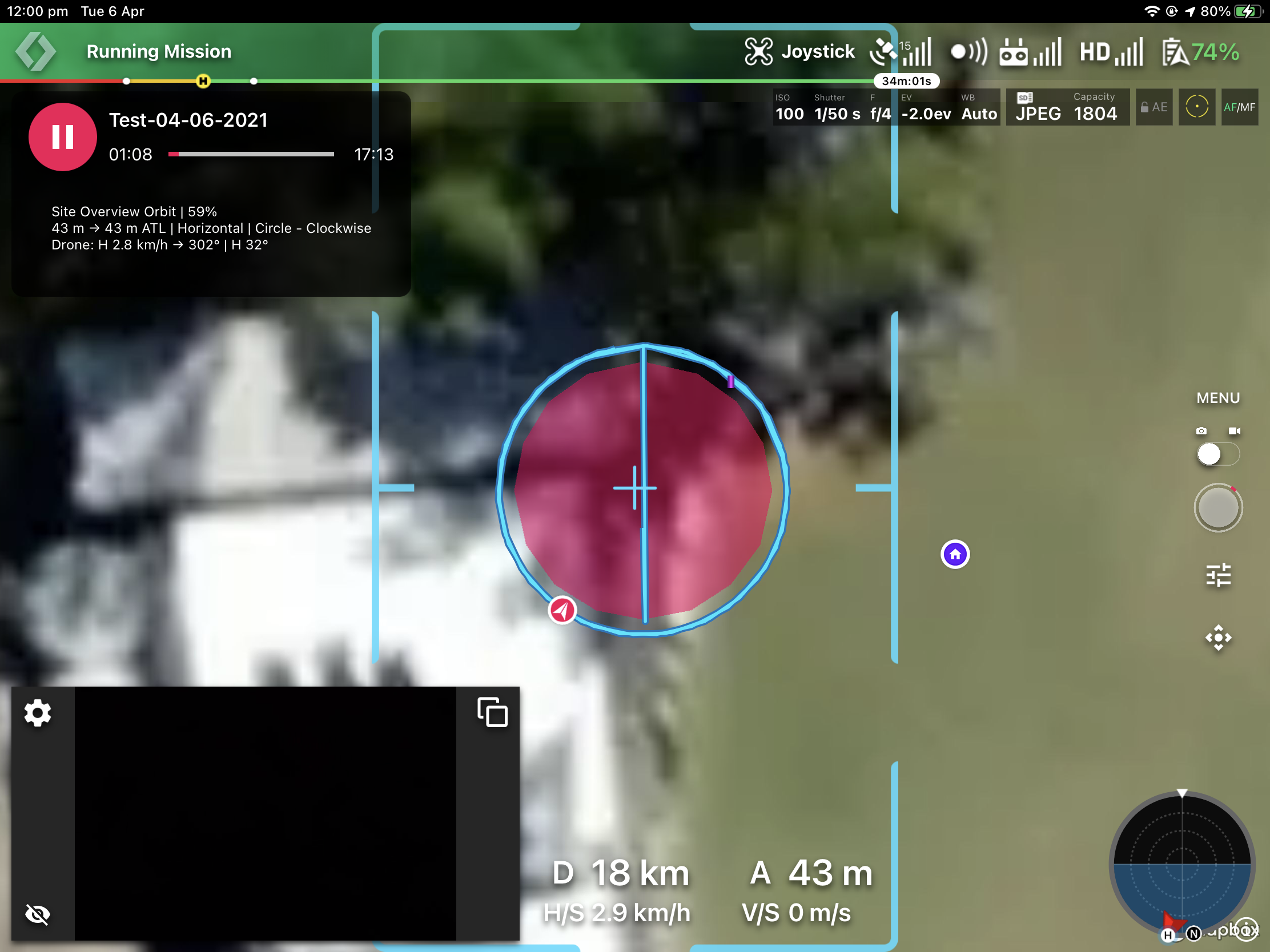 Resuming a Mission

Check Exposure Settings

Before resuming a mission, check that the camera is still in manual exposure mode and that the exposure settings have not been changed accidentally. The current settings are displayed at the top right of the screen. You can also tap

to check.
To resume a paused mission, tap

. To resume a cancelled mission, tap

to return to the Tasks list, then tap the cancelled task followed by

.

Re-Centring Before Resuming

While this may not always be necessary, we recommend you re-centre the tower (i.e. mark the tower centre again) prior to resuming a mission. The following section explains how to do so.
Re-Centring a Mission
To re-centre a mission, do the following:
If the mission is in progress, pause it.
If the in-flight controls are hidden, tap to show them.
Fly about 8 m (26 ft) above the tower top and set the gimbal to -90 degrees (you can use the in-flight controls to do so).
Carefully centre the tower, let the drone hover for about 20 seconds (it is OK to do minor adjustments during this time) then tap . Re-centring is now complete (you will not receive any confirmation).

Resume the mission.
Using Ground Control Points
In addition to the drone GPS data recorded with the photos during image acquisition, our processing software can use ground control points (GCPs) such as the one shown in the image below to improve accuracy of the 3D model significantly. Detailed information on the accuracy of the 3D models produced by SiteSee is provided in this document.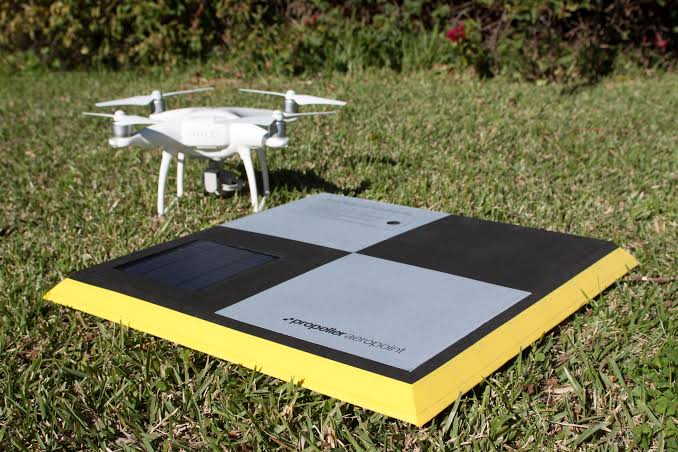 SiteSee requires its customers to use a specially designed system based on Propeller AeroPoints in conjunction with AprilTags which automates both the GCP position logging onsite and their subsequent processing, resulting in a significant reduction of processing time and cost. Please consult our Ground Control Points User Guide for details on how to use this system.